A special recipe for a big,
This is my children's favorite soup -
they request
it all of the time -
~*~
Chicken Noodle Love Soup
2-3 c prepared chicken
*
8-10 c chicken stock
(see link to recipe below)
*
2 chicken bouillon cubes
*
3 carrots (diced or shredded)
*
3 celery stalks (diced)
*
1 onion (diced)
*
1 t each: basil -oregano - marjoram
*
1 bay leaf
*
salt & pepper to taste
*
1 pkg. wide egg noodles
*
fresh parsley
~*~
Prepare Chicken
You can do this a variety of ways - I like to roast my chicken first
and then shred meat in chunky pieces. I place my chicken (6-8 pieces)
on a baking sheet - drizzle with olive oil and season with kosher salt
and cracked black pepper - roast @ 350 degrees for about 40 minutes.
You may also poach your chicken in simmering stock or even use
a rotisserie chicken for this delectable soup.
~*~
In a large dutch oven saute onions, carrots and celery in butter
until tender. Add chicken stock, bouillon cubes, spices and seasonings -
bring to a boil and then reduce heat. Stir in chicken and simmer for
30-45 minutes allowing all of the flavors to blend. Bring soup up to a boil
again and add the egg noodles - cook until al dente and remove from heat.
Serve garnished with fresh parsley.
*******
for my delicious go-to recipe!
~*~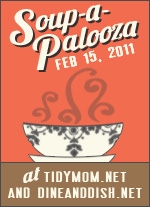 ~*~*~*~*~*~*~*~*~*~
I am linking to my favorite foodie blog parties:
~~~~~~~~~~~~~~~~~~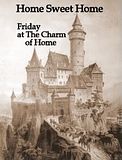 Please remember to enter my
~ a $25.00 gift certificate to CNS Stores!
Leave a lovely comment to be entered
to win until Thursday - 2/17/11.