A picture is worth a thousand words...
for words can never describe the beauty
and

majesty

of this beautiful place that I love.
~*~
We are leaving for vacation tonight - back to Vermont!
I wanted to share with you tidbits from our vacation in
October - when we enjoyed the marvelous fall foliage
and all the magnificent things that autumn offers.

Autumn has always been my favorite season
and there is no better place on the earth
to celebrate then in Vermont.
~*~
...it truly takes my breath away!

Vermont has captured my heart...
~*~
~*~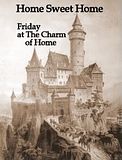 .